the BIO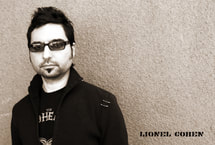 Prolific Los Angeles-based New Yorker
lionel Cohen
has been insatiably producing music for over twenty-five years. His discipline and creativity have garnered him over
300 IMDb credits
and over
2,000,000 plays on Spotify
. He has
produced countless indie artists
, and has commercially released over
150 albums
of original music. "
Quantity is no substitute for quality," he declares, "But practice does make perfect
!".
lionel has scored several award-winning documentaries, including "
The Little House That Could
" and "
Fire & Water
". He has recently completed scoring two feature films, "
Scumbag
", which won "Best Comedy" at the Philadelphia Independent Film Festival, and "
First We Take Brooklyn
", starring Harvey
Keitel and AnnaLynne McCord
, which will be released by Sony Pictures later this year. He has also just released his fifth
Spaghetti-Western
album, his fourth record of
Middle-Eastern Fusion
music, and is currently
producing
several LA-based singer/songwriters as well as finishing up a sophomore album of 80s-influenced pop songs with his Hollywood duo,
The Fascinated
.
lionel's music can be heard in TV shows including American Idol, House, Elementary, Chopped, Surviving the Cut, Kourtney & Kim Take New York, Real Housewives of Miami, Breaking Amish and Amish Mafia, and in countless commercials including How I Met Your Mother, Two and a Half Men, The Big Bang Theory, 2 Broke Girls, The Mentalist, The Price is Right, Hawaii Five-O, Undercover Boss, Survivor, Criminal Minds, The Tonight Show, Friends, Saturday Night Live and The Late Show. His
commercial works
include Sony PSP, Cadillac, Buick, BMW, Mercedes, Glenfiddich, Carlsberg, Verizon, NASCAR, Adidas, DirectTV, Louis Vuitton, Kohl's and Macy's, to name a few.
lionel was born in Marseille to a Moroccan father and a French mother. He was educated in Canada, and subsequently moved to New York City, where he lived for over 16 years. He has now been living in Los Angeles since 2013. lionel has always found expression as a
musician, composer
,
producer
,
painter
,
photographer
, writer,
graphic designer
and
short film director
. He has established himself as a multidisciplinary artist and a respected figure in the underground scene.
Since the late 1980's, his body of work has expanded into almost every medium possible. In Canada, lionel began his career as a guitar player in heavy metal bands, however, his initial love of cinema prompted his studies in film, photography and the fine arts throughout both college in Montreal and university in Toronto, (this is where he developed his passion for scoring motion pictures), followed by audio engineering once in New York.
lionel is a founding member of
The Fascinated
,
The Plastic FanTastics
,
RoBOT LIKE ME
,
musicformachines.com
,
La Resistance
,
These Young Anarchists
, and several other commercially released acts.
His band, "
The Plastic FanTastics
" has received critical acclaim in the New York rock scene; described as "
a cross between Nine Inch Nails and Love And Rockets
" by Babysue.com. "
The Plastic Fantastics combine the anger and angst of old school industrial with a little punk flair [...] Catchy music and lyrics, done to perfection
" writes industrial.org.
Wayne Kramer of The MC5
adds, "It's so refreshing to listen to a band of this generation explore a new sound."
---
---
dna-productions | 1342 N Fuller Ave. Suite 208, Hollywood, CA 90046 | 646-824-9224 | info@dna-productions.com